Rapra Technology Limited is situated on the A53 just outside Shawbury on the road to Shrewsbury. The company moved to Shawbury in Shropshire in 1954. In 1960, plastics were added to the company's remit and it changed its name to the Rubber and Plastics Research Association (RAPRA for short).
Smithers Rapra Technology Ltd is better known as Smithers Rapra, a wholly owned subsidiary of The Smithers Group & is recognised as a World leading independent rubber, plastic and composite consultancy. Smithers Rapra provides a comprehensive Independent service covering, testing, analysis, processing & research for the polymer industry & industries using plastics & rubber in any component, product or production process.
Technology
Polymer consultancy
Extensive material & product testing facilities
Impressive range of analytical Services
Polymer product & process development centre
Research project activity for the EU commission
Information
Training courses
Polymer library
Conferences
Publications
Company History:
1919 - Established as RABRM (the Research Association of British Rubber Manufacturers).
1960 - Evolution into RAPRA (Rubber And Plastic Research Association) when plastics were added to the companies remit.
1986 - Saw the incorporation of Rapra Technology Ltd and a board of directors were appointed.
2002 - The management team of Rapra Technology Ltd exercised a Management Buyout (MBO), acquiring the assets and liabilities of the company from Rapra Technology Ltd.
2002 - The former Rapra Technology Ltd was re named Rapra Ltd and remained a not-for-profit company limited by guarantee.
2006 - The Smithers Group acquired the company and renamed it Smithers Rapra Technology Ltd.
Company Statistics:
5,000 clients worldwide from 60 countries per annum.
2,000 technical projects completed each year.
Industry leading Information Centre with the world's largest Polymer information resources
2 sites in the UK: Shawbury Shropshire, Billingham Cleveland.
130 employees made up of scientists, technologists and support personnel.
Some items which Smithers RAPRA have tested include things like artifical football pitches , fan belts, cling film, car tyres, crash mats and shoe soles.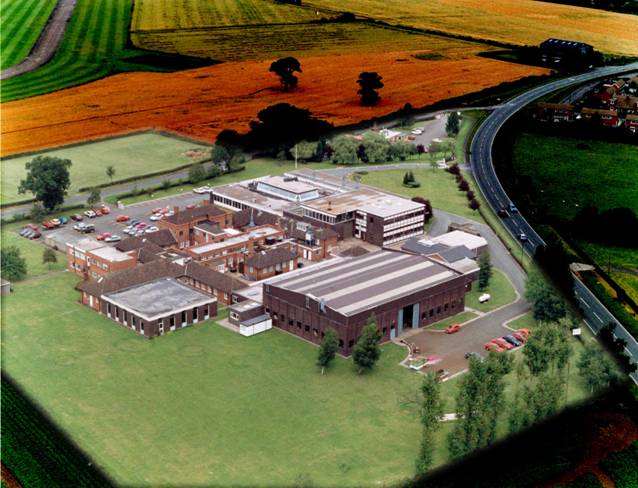 Aerial view of Smithers Rapra Technology Ltd
But as well as offering consultancy Smithers Rapra Technology Ltd also offer testing services which can test a material for abrasion, fatigue, stress, impact and many others. Nowadays they are also involved with fire testing as safety becomes more and more important. So things like ignition sources, smoke generation and fumes which a certain material might have or give out can also be found and tested.
Another interesting fact about Smithers RAPRA Tehnology Ltd is that they have what is probably the world's biggest database about rubbers and plastics. The database is available on CDROM or on the internet.
It contains over 700,000 references which are constantly updated. As well as providing this database they also produce publications like Journals, Reports and a Global Directory.
Another picture of Smithers RAPRA Technology Ltd
If you would like to get any further information on the services and products that Smithers RAPRA Technology Ltd provide please ring 01939 250383 or visit their web site at http://www.rapra.net or even email them at info@rapra.net