Coronavirus (COVID-19)
For the latest NHS information on the Coronavirus (COVID-19) go the website
https://www.nhs.uk/conditions/coronavirus-covid-19/
The advice from the NHS (correct as of 21st March 2020) if you are showing symptoms of the Coronavirus; Stay at home for 7 days, single occupancy, 14 for multiple occupancy (see NHS 111 website for details) , if you have either:
a high temperature; you feel hot to touch on your chest or back
a new, continuous cough; this means you've started coughing repeatedly
To protect yourself and others, do not go to a GP, pharmacy or hospital.
Your first action is to go to the NHS 111 website for detailed advice of what to do
https://111.nhs.uk/covid-19/
(only call 111 if you cannot get online)
Clubs and Events
The village hall has been closed until further notice.
Local Businesses
Our local businesses will suffer considerably during this health emergency. Whilst you are able, please support your local businesses.
Supporting our Community
A new email address has been created for Shawbury residents, whether you are offering assistance, or in need of support (a friendly phone call/skype, picking up shopping/prescriptions, a distance game of chess! etc.)
Whether you are offering, or in need of support, please email your contact details and what you can do to help, or what support you need.
If you have relatives/neighbours who dont have email, can you be their link? The aim is to link peoples offers to those in need.
shawburyisolationspt@gmail.com
All personal data will be stored within the Google Drive system, with a limited number of co-ordinators in Shawbury having access to the data. The supplied details will only be used for support related to the current Coronavirus outbreak.
All data will be deleted once we move out of the pandemic situation, or upon requests from individuals.
By submitting your contact details, you are agreeing for them to be shared with a member of the local community who is looking for support/offering support.
Shawbury Parish Council Website
There is a website which gives details on the Shawbury Parish Council.
It includes information on parish councillors, the Shawbury moat, budget, parish plan, meetings and policies.
www.shawbury-pc.gov.uk
History of Shawbury Book
Over 20 years ago Mrs Evelyn Lea researched local history to produce a booklet called 'Shawbury - the Village and its People'.
1,000 copies were printed with a further 200 copies
ordered following its initial success.
This website has received some enquiries from people researching their family history, so the time seemed right to reproduce the original.
Please also see the History of Shawbury link on the left hand side menu.
It is 6 pounds including postage & packaging
It has 53 pages and has chapters including: Early history, charities, village trades and industries, entertainment, amenities, interesting homes,
schools, characters, childhood memories, surrounding hamlets, RAF Station and families.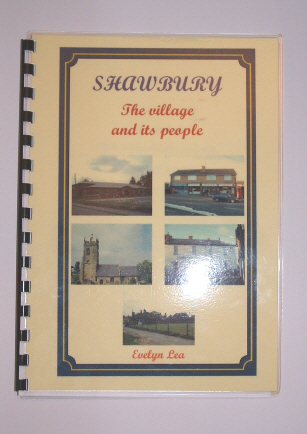 If you are interested in purchasing the Shawbury Book please email us using the graphic below:

Whats New on the Web Site
On the web site this month we have the latest newsletter which
includes articles on forthcoming events, community information and much more.
To view whats on this month view the latest newsletter using the
menu on the left hand side
If you are using Windows 10 then you are best to use microsoft edge to view this website so that the pdfs can be opened correctly.