Moreton Corbet is situated just off the road from Shawbury to Wem, just opposite RAF Shawbury. It is signposted so there shouldn't be much trouble finding it. The site is now managed by English Heritage although it is still owned by the Corbet family.
The Moreton Corbet site is actually made up of two parts. The first one is on the left when you enter the site using the main gate. It is the ruins of a fortress that was first built by Batholomew Torret in the years around 1200 A.D. It is thought that this stone fortress might have replaced an earlier timber castle. The Torrets were a Saxon family who prospered in this area when it was being managed by Norman Kings. Unfortunately Bartholomew Torret was thrown in prison by King John in 1215.
The Castle entered Corbet ownership when Bartholomew's heiress married Richard Corbet in 1239. Probably the oldest part of these ruins is the keep or stronghold, inside the perimeter (this dates from around 1200 A.D.) The gatehouse and perimeter wall were built later. But both were severly alteredt in the mid 16th century by Sir Andrew Corbet. He was the father of Robert Corbet. Andrew Corbets death in 1579 is commenorated by a plaque.
The second part of the ruins is an Elizabethan mansion, and construction on it began in 1579 by Robert Corbet. The ruins of this mansion can be seen below: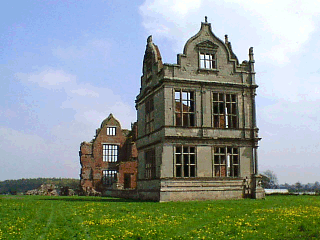 The ruins of the Elizabethan mansion
This mansion has an important place in the history of English Architecture, because it belongs to a small group of houses which were built by Elizabeth 1st's courters and diplomats (of which Robert Corbet was one) who travelled abroad and were impressed by the new classical architecture modelled on that of ancient Rome.
But Robert Corbets mansion is by no means properly cloassical as the new style only filtered into England through architectural engravings which were imported from the continent.
This mansion would have cpntained separate apartments, and he also laid out an ambitious formal garden. Part of which can be found in the adjourning field.
Moreton Corbet was finsihed off after Roberts death in 1583 by his brothers Richard and Vincent.
It was during the civil war in the 17th centurythe castle formed part of the defences around royalist Shrewsbury, until it was finally tricked into submission by the Parliamentarians in 1644.
The castle was repaired but the Corbet family moved away in the mid 18th century. By 1790 most of the castle had been demolished , although enough survives to show its former magnificence and beauty.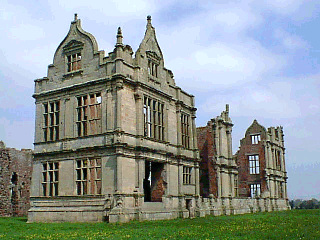 The ruins of the Elizabethan mansion
It is still possible to see a bed from Moreton Corbet Castle in Rowleys House museum in Shrewsbury, opposite the Victorian Arcade.